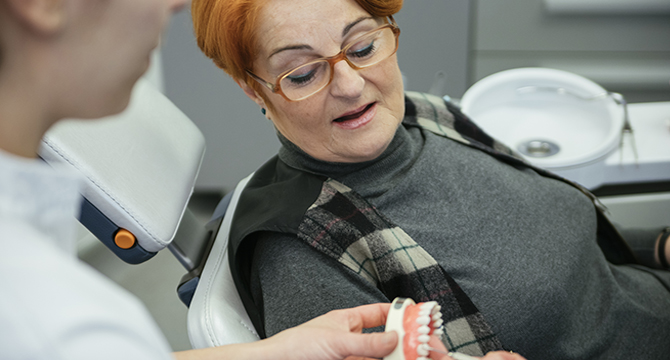 If you are missing several teeth in the upper or lower jaw, you may be a good candidate for dentures. We make dentures affordable in St. Petersburg and Clearwater, FL, for patients with missing teeth. To ensure you receive the most comfortable dentures available, our team uses state-of-the-art technology and high-quality materials to create a custom set of dentures. You can eat properly and speak clearly with our dentures! Learn more about affordable dentures in St. Petersburg and Clearwater, FL, by scheduling your consultation with St. Petersburg Dental Center today. We can create a set of comfortable dentures to re-store your smile and improve your quality of life.
Fixed Dentures
Patients who have lost all of the teeth in an arch may benefit from fixed dentures for permanent tooth replacement. These are permanently affixed to the gums and can only be removed at our office. In some cases, fixed dentures are supported by a set of dental implants.
Traditional Dentures
These are also removable and can be an attractive option for patients who have not lost a lot of bone after losing their teeth. These dentures sit on top of the gums and are secured in place with adhesives or paste. Complications with these dentures are minimal, but you may need a replacement in a few years or make the switch to implant-supported dentures at some point during your lifetime.
Partial Dentures
If you still have some natural teeth remaining in the arch, we can create custom, comfortable dentures to replace just the missing teeth. A custom dental appliance is attached to existing teeth and the gums to restore the smile and ensure you can eat and speak properly. We can discuss the benefits of this procedure during your consultation.
Look forward to going to the dentist again.